5th edition of Día de Muertos dans les Marolles
- 05/11/2022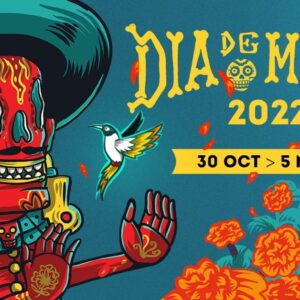 From 30 October to 5 November we once again celebrated Día de Muertos both inside and outside the Marolles. Featuring masterclasses and a Fandango with the musician Patricio Hidalgo, workshops and storytelling evenings on the commemoration of the dearly departed, the installation of the Grand Altar of the Dead and of course the Procesión on Saturday evening!

This year, the artists behind Día de Muertos like Celia Dessardo, Israel Alonso and Sarah & Manon Brulé, created a rich program of workshops and activities during the day plus concerts and other performances in the evening.

Some novelties in 2022: the Cafés Mortels, dialogue tables on dealing with death and funeral ceremonies, based on a concept by the Swiss sociologist and anthropologist Bernard Crettaz. Secondly, there were also workshops Zapateado (Mexican tap dancing) with dancer Sandra Rivas Arbesú and finally Patricio Hidalgo, a composer, jaranero and maestro of the Son Jarocho came over from Mexico to give masterclasses and perform in concerts and a Fandango.


Another novelty: the big finale on Saturday 5 November expanded towards Saint-Gilles. As a prelude on the Procesión itself, a mini-parade led by BRUiTAL and the giant skeleton Adriana marched from the Pianofabriek in Saint-Gilles to the Parc de Porte de Hal, where they joined the other musicians and participants of the Procesión. Around 18h30 the entire parade started to meander through les Marolles, arriving at Place du Jeu de Balle for a finale with surprise concerts and muchos toritos.