MetX opens Ghent Gnawa Festival
- 28/08/2019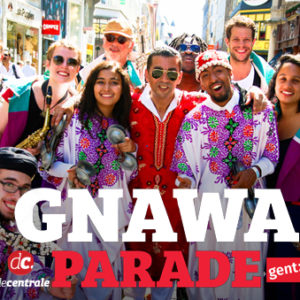 From September 14 till October 5, De Centrale organises the first Gnawa festival in Ghent. The kick-off happens during OdeGand with a gnawa parade or 'Krima'. At the request of De Centrale, MetX invites a large number of gnawa musicians from Brussels, completed by gnawas from Ghent and Antwerp.
There's no better opener for a festival about Moroccan gnawa music than a 'krima' or gnawa parade. This is an age-old tradition that has turned into contemporary street art. On September 14, it will reunite some of the most important gnawa musicians from Brussels and other Belgian cities.
Hicham Bilali for example, who comes with his band Black Koyo. They fuse rock with gnawa music and display an abundance of energy and presence. MetX also presents Karkaba, the group of Driss Filali and Mohamed Saïd Akasri, with talented young people and a strong female presence. In the sparkling finale, all this will be complemented with the wind section of Remork.
From 1.30 pm – 3.30 pm in the Ghent city center. Discover the full route of the parade.
Workshops and concerts about gnawa-tradition
After the festive premiere on September 14, a whole series of concerts and workshops will be organised. Les Gnawas de Bruxelles perform with Brazilian musician Luiz Alfredo Coutinho Souto aka DJ Tudo, and the Moroccan choreographer Khalid Benghrib presents the contemporary dance creation L'HAAL. Luc Mishalle, Driss Filali & Mohamed Saïd Akasri will also host a gnawa music workshop on the 2nd of October.
The Ghent Gnawa Festival is organised by De Centrale with the City of Ghent, Festival of Flanders (OdeGand), Handelsbeurs, MetX, School of Arts Ghent (KASK & Conservatory), Studio Skoop and Othman El Kheloufi. More info on decentrale.be.