Biography
Laïla Amezian is a Belgian-Moroccan singer with an eclectic style and an intense, silky voice. Inspired by the varied repertoires of her Maghrebian origins, Laïla nourishes her vocal style with influences stemming from jazz, world music and various encounters made over the years. As from 2023 she's one of the artistic coordinators at MetX.

For more than twenty years, Laïla Amezian has performed on the stage of numerous concert venues and festivals, both in Belgium and abroad.

Both very Brussels and very Moroccan
Her career is surprisingly eclectic. From the very beginning, she has performed in both jazz and French chanson circles, even grooving to soul funk rhythms. Then, curious to confront her North African origins with the musical world that surrounds her in Brussels, she tirelessly seeks, through projects in music, theatre and dance, that right resonance that allows her to be both very Brussels and very Moroccan.

While making detours through theatre (La Chute, La Fiancée de l'Eau) and dance (Les Ballets du Grand Maghreb), she vocally accompanies groups like Studio Pagol, Ys, Oblomow, Jaune Toujours and Qayna. She is also regularly called upon for specific projects, such as 'Uit de Bol' at KVS, 'Shouting Fence' at Kaaitheater, DJ Grazzhoppa's DJ Bigband, Askanyi or D-Radicalize with the BOHO Strings.

From 2003 to 2006, Laïla and Piet Maris lead Arabanda, a musical project drawing on the classical and traditional Arab-Andalusian repertoire with a brass orchestration.
Arabanda © Milena Strange 2006

First musical creations
In 2008, she launches her first musical creation: Bast. This co-production with Kaaitheater is her first solo project, in which she adapts the book The Prophet by Khalil Gibran in English and Arabic. She composes melodies imbued with jazz, Arabic music and post-rock, and is assisted by Michaël Grébil for the arrangements and Erwin Vann for the musical direction.

From 2010 to 2014, she creates TriOde. This acoustic trio with Anja Naucler on cello and Stephan Pougin on drums, brings an ode to vocal happiness, a 'best of' with songs about love and devotion.
TriOde © Stephan Vanfleteren
In partnership with l'Espace Senghor in Etterbeek, Laïla Amezian launches and conducts Les Fatmas de Belgica from 2015 to 2019. This choral project is based on popular songs from northern Morocco in the European polyphonic tradition. And in 2019 she creates Les Sheikhs Shikhats. Reinterpreting excerpts from Morocco's popular repertoire, Laïla surrounds herself with vocalists and musicians from the jazz and world scene to develop a multi-voice adaptation of these songs, with a festive chaabi groove and daring jazz arrangements by Laurent Blondiau.
Les Sheikhs Shikhats © Lara Herbinia
Nomadic musical encounters
That same year, the two ensembles take part in the nomadic musical encounters Al-Karavan. This event organised by HalfmOon vzw & Laïla Amezian in collaboration with De Centrale, Le Senghor, Amarant vzw, UPA and MetX pays tribute to the first generation of migrants of Moroccan origin in Belgium.

After a successful first edition of these nomadic musical encounters, Laïla repeats the event in March 2020 with Chaabi Habibi in partnership with UPA and MetX. This event tends to break existing taboos around femininity through Moroccan popular dance and music.

Always full of creativity, Laïla is solicited by Didier Mélon (Le Monde est un Village – RTBF La Première) in 2020, who invites her to present a creation as part of Première Esquisse. For this project entitled 'In The Name Of', she proposes original compositions on the poetry of Taha Adnan.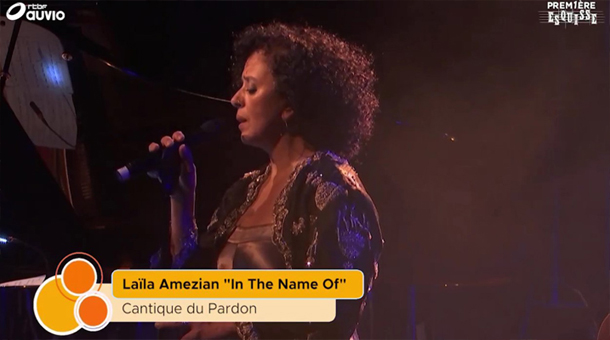 In 2021, Laïla joins the team of musicians at MetX. From the start, she participates in major projects like Musikaa – Klarafestival and Singing Brussels 2022 with her women's choir Fatmas de Belgica. She also further develops the project Les Sheikhs Shikhats by inviting the mighty brass section from Mâäk and members of Sultanats B'net Chaabi, female singers who officiate at private events within the Moroccan community. As the Sheikhs Shikhats & B'net Chaabi this XL-ensemble releases a first album and music video in March 2023, followed by a concert tour in Brussels, Flanders and the Netherlands.